Wisteria is wonderful, and to keep it that way it needs a little TLC a couple of times a year. In a recent Pots & Trowels video, Martin Fish shared his expert tips and advice for how to summer prune wisteria. You can watch the video below, or keep reading for all the tips, tricks and equipment you need to go about your wisteria summer maintenance.
How often should you prune wisteria?
Wisteria benefits from a good prune twice a year – once in the summer, around July/August, and once in the winter, around January/February, to keep it looking and growing its best.
The winter prune involves shortening the flowering spurs and taking out some of the dead wood to encourage new shoots and more flowering buds, and therefore a stunning flower display, later in the season. Check out our previous Pots & Trowels blog for tips and advice on winter pruning wisteria.
At this time of year, the summer prune is needed to reduce the long, new shoots that your wisteria has since produced to keep it neat and tidy. If you leave a wisteria unpruned in the summer it'll just becomes a tangled mess of long stems that all intertwine and twist in, so the aim of a summer prune is to cut these back and tidy it up.
If you have a young wisteria that's not as established, however, you can always use long new growths and tie them in horizontally to an existing branch with a few pieces of string, and then you will eventually get flowers hanging down from that growth too.
Once you've got your framework, either a trellis, a fence or a wall, then it's all the new growth that you get at this time of the year that you want to cut back. So grab your Darlac pruners and let's get started!
How to summer prune wisteria
To give wisteria a summer prune, you need to trace any new growth back to the spur where it started growing. Once you've found it, you want to cut the growth back so that there's just a couple of inches of new growth with three or four buds still intact. Work your way around all of your wisteria and cut back all of the new growth just the same.
Some will be longer than others, and that'll leave the shorter ones – what are called the spurs – for the flower buds to grow on next year and put on more long growth. Keep repeating this process every year, and over time they'll get longer and further away from the growing framework. You can also give them a bit more of a prune again in the winter to keep them in check and stop them getting too long as they put on more new growth.
After flowering, wisteria produces seed pods where the old flowers once bloomed, which look like runner beans, as wisteria is a member of the legume family. You don't have to remove them (you could keep them for decorative reasons if you wanted to, for example) but it is useful, especially on a young wisteria, to take them off to help direct the energy your wisteria is putting into producing the seed pods back into flowering and growth for next year. There's not really any point trying to sow the seeds as you won't get the same plant – typically they're used for rootstocks.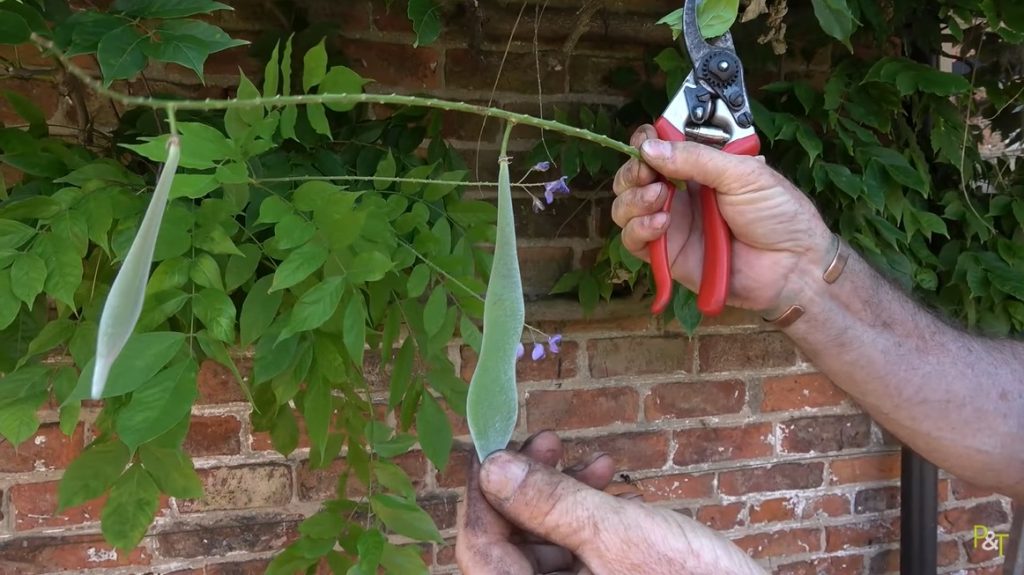 And there you have it! Give your wisteria a good prune in the summer and in the winter and it'll reward you with fabulous trailing blooms for years and years to come.
Where to Buy Darlac Tools
Make life a little easier for yourself by using the right garden tool for the job. You can find our Darlac products in store from your local garden centre. Find your local Darlac stockist here.
If you enjoyed this blog post and the Pots & Trowels video, be sure to subscribe to Pots & Trowels on YouTube and to follow them on Facebook, Instagram and Twitter for weekly practical videos all about gardening.